If you are reading this, you must be learning Arabic, thinking about it or have just started. Whatever the case may be, learning a foreign language is quite a rewarding endeavor at many levels, and it's even more so if it's Arabic you are trying to learn.
At this stage, the need for resources and information to learn Arabic and its dialects is a priority.
As someone who's been involved in teaching Arabic to adults and testing them, I am very aware of the learner's struggles of making choices, finding resources and staying informed.
I therefore decided to use write this post for any beginner learner of Arabic to share some resources and pointers that will help you save you time and effort in learning this beautiful language.
Know your Arabic!
Arabic language , just like the Arab world where it is spoken, is very rich and diverse. Before embarking on your learning journey, it would be extremely useful to learn the basics about Arabic and Arabs.
Gaining a basic understanding about the region's history, people and languages will give you a clearer idea on whether it is really the language you want to learn.
Understanding Arabs is a great read for anyone who wants to gain basic and practical understanding of the Arab people, the native speakers of Arabic.
Know the type of Arabic you want to learn.
From the outside, Arabic sounds like it is one language used by all. But a closer look will reveal that there is more to it than meets the eye.
There are various Arabic dialects spoken across the Arab world. Each country has its own Arabic dialect. The dialect is what people use in their daily interactions at home, at work (depends) and everywhere else. These various dialects are not always mutually intelligible. Then, how do Arabs from different countries communicate with each other? You may ask.
Modern Standard Arabic is the common language among these countries and its used in official communications, newscasts, books and newspapers.
It is then important to understand these differences before you decide whether you want to learn MSA or a dialect . It's equally important to understand that there is no right or wrong answer. It will all depend on what you personally want or need to learn.
Identify what modality you want to learn (speaking, writing, reading or listening).
Identifying what form of Arabic you want to learn will determine the modality(ies) you will need to master with it. For instance, learning Modern Standard Arabic (MSA) requires the skills of reading Arabic at the least. You many need to learn how to write it as well, depending on what you need to learn MSA for.
If you need to learn Arabic just to verbally communicate with Arabs in an informal setting, you may need to learn just the dialect, which is largely an oral medium. In this case, you may want to explore my review of iTalki to see if it's the right fit for you. Most likely, it will meet all your speaking needs. Read about which dialect to learn for more details on this topic.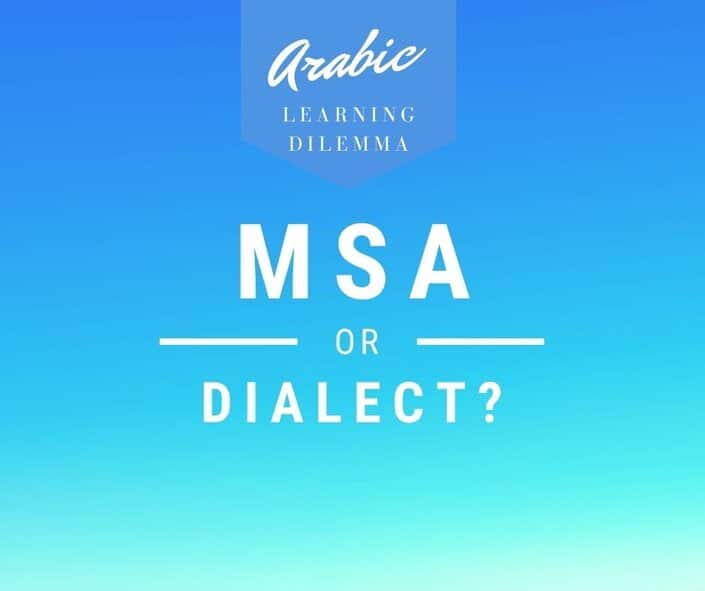 Set your own baby-step goals!
It is important to set realistic and attainable goal or milestones in your learning journey. Based on experience, the best approach is to take baby steps through a slow and steady attitude.
Just determine what you need to learn or master three months, nine months or two years from now, and work your way towards it.
The absolute Arabic beginner:
These are two widely popular books to learn how to read and write the Arabic letters. You don't need both of them. Either one is enough to introduce you to this important foundation.
The Arabic Alphabet: How to Read & Write It. This book will show you how to write the Arabic letters and offers a good introduction to plenty of vocabulary. You will be able to use it to practice your writing in Arabic.
Alif Baa This book was released by Georgetown University and has been the introductory book of choice for US college students. It's currently in its third edition. You'll learn how to read and write Arabic letters and much more. The DVD that comes with it demonstrates how to write each letter depending on its position in the word.
Once you become familiar with the Arabic letters, you can follow any of the following YouTube channels for introductory Arabic lessons. These YouTube tutorials can supplement your learning as a beginner even as you study independently or pursue learning in a group setting elsewhere.
The Beginner-to-intermediate Arabic language Learner:
After learning how to read and write Arabic letters, you'll need to move on to learning how to read and write small sentences and phrases of Arabic.
Recommended Books:
There are a good dozen reputable textbooks to use for this stage in your learning. Many of them cover MSA while others teach dialects. If you want a book that teaches MSA and a dialect or two, your best choice would be Al-Kitaab. However, working with two books from the following list would cover most of your learning needs as a beginner.
Dictionaries:
Although there are various free online Arabic dictionaries that a learner should know about, It is advisable to have at least one hard-copy of Arabic-English dictionary that you can keep at home. As you go through the pages and alphabetical order, you will develop a better connection with the Arabic language and Arabic terms.
Al-Mawrid and Hans Wehr are the best two Arabic-English dictionaries in the market. For online resources, Al-Maany is a great online-dictionary for MSA, although it could be overwhelmingly hard to navigate. For MSA and dialects, Lughatuna is a great resource.
Arabic reading resources:
It's hard , if not impossible, to improve your Arabic vocabulary without reading plenty of Arabic. However, the biggest challenge many beginning learners face is finding Arabic-language that have tashkeel or vocalizations . For practical steps and reading resources, including books with tashkeel, take a look at this previous article.
If you like to have hard copy books, this is a great collection of Arab folk stories written specifically for learners of Arabic.
Language Tools is a great reading platform that allows you to explore a searchable database of Arabic reading materials.
MATC offers a database of Arabic media text where users can opt to read the passages with harakat (vocalizations) or without. Additional options are available such as glossary common phrases etc…
Arabic listening resources:
If you'd like to develop and improve your Arabic speaking skills you definitely have to increase your exposure to quality Arabic listening material.
Unlike with reading effort, listening can be easier and more convenient for learners of any foreign language. You'll likely be able to spend more time listening to the language you want to learn.
It's therefore important to take advantage of any available resources to speed up your learning pace and train your ear on Arabic input.
One of the best and most cost-effective listening resources that is overlooked by many, especially in the over-40 crowd of language students, is Audible.
Students of Arabic can explore how to hack Audible for Arabic learning content. They are in for a pleasant surprise.
Podcasts are probably the best platform to listen to authentic Arabic materials. This is a list of some of the best Arabic podcasts that were handpicked for the quality of the content, the language and variety to any intermediate learner of Modern Standard Arabic, Levantine and Gulf dialects.  That, combined with a low-cost subscription Arabic learning platform like Rocket Languages can help you make big progress in your learning of the language as long as you show consistency.
Playaling is another platform that contains a good selection of authentic Arabic subtitled clips in MSA and various dialects and difficulty levels.
If you like to work with listening material that is structured, yet authentic, Arabic Voices 1 offers authentic non-scripted dialogues in Arabic that you can listen to and study.
If you are an existing Audible subscriber, you can benefit from a wide array of Arabic-language audiobooks as well as learning materials for kids and adults.
Arabic Language Immersion:
Language immersion is the most effective and fastest way to learn Arabic or any other language for that matter.
There are outstanding and reputable Arabic immersion programs for which qualified students can receive full scholarships. In the US, there is a plethora of grants and free money to learn Arabic overseas. Here is an example of some of these opportunities.
There are other creative ways to finance your Arabic studies overseas such as joining the US Peace Corps or being a digital nomad.
Others travel to an Arab country with a low cost of living and teach English or Spanish locally to cover their expenses while attending a local Arabic school there and practice the language with the locals.
Just do it!
The worst part of would-be learners of Arabic, or another language for that matter, is analysis paralysis. The tendency to over-analyze what and how to study can set you back weeks or months. In other cases, you may lose interest in learning the language due to the length of time spent thinking about it.
The best thing is to just do it now. Grab a reputable introductory Arabic book like Alif Baa, learn the basics and keep exploring more advanced learning options. As a next step, you may join an online platform like Mondly, iTalki or Rocket Languages. I can assure you that a few months later you'll be proud of yourself and be more informed on the next step you need to take. The only difference is that it will be a higher step to higher proficiency level.
Happy Arabic learning!